As a farmer, a precision equipment dealer and a crop consultant, Bill Lehmkuhl gets to see pretty much every side of the precision equipment puzzle. Lehmkuhl returned to his family farm in 1986, started crop consulting in 1994 — and using precision equipment on his own farm — and made the leap to being a precision equipment dealer in 1996.
His AgLeader yield monitor is the keystone in the barrage of precision equipment used on Lehmkuhl's farm.
"It ultimately drives all farm management decisions," he says. "Everything from where to pull soil tests for zone management and fertility and being able to check on other agronomic practices as well."
Data gathered from the yield monitor and soil samples taken at direction from that data is used to create precision prescription variable-rate fertility maps for custom applicators to follow. It's also used to guide variable-rate seed populations carefully calculated, based on soil type and hybrid characteristics.
Lehmkuhl's 16-row Kinze planter is equipped with a Precision Planting 20/20 RowFlow system. A 20/20 SeedSense monitor is able to monitor seed placement, control variable-rate seeding and control row clutches. Trimble systems manage auto-steer.
"Through variable rate and clutch control, 20/20 RowFlow has probably saved us at least 20% in seed costs and reduced over-planting and yield loss, especially on our farm's irregularly shaped fields that lie right along a lake," Lehmkuhl says. "Auto-steer has served to really stretch out the day, basically turning a 16-row planter into a 20-plus-row planter as far as efficiencies, and the fact that there is less fatigue, I can run longer hours."
Lehmkuhl also enjoys the efficiencies of auto-steer in his combine.
What Farmers Want From You is a series of farmer profiles that examine the scope of precision farming tools individual farmers are using on their operation, along with the frustrations that can occur with adopting new technology and how dealers can alleviate those "points of pain" for farm customers. For the latest additions to the series, visit our What Farmers Want From You feed.
"When running a 35-foot grain platform, auto-steer increases efficiency because you're using the entire cutting platform," he says.
Points of Pain: Early Tech Support and Data Use
"When we got our first systems, they were installed by a dealer, but the support afterward tended to be lax," Lehmkuhl says. "Technology is great when it works, but a nightmare when it doesn't."
He was often frustrated with the answers he got from tech support and can better relate to his customers today due to his experiences. His pet peeve was tech support would always ask what firmware/software version he was using and then tell him his problem was the result of outdated software.
"It was working just fine yesterday and I didn't add anything or take anything off. Sometimes it just felt like a cop out by support people to get you to install an update," Lehmkuhl says. "That's not to say it isn't an update sometimes, but it's frustrating."
Before Row Clutches
---
After Row Clutches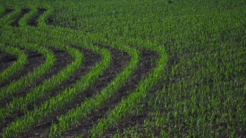 Row clutches have gained Lehmkuhl up to 20% in seed savings and prevented yield losses due to overplanting
Fast changing technology does require that Lehmkuhl take extra care to explain potential updates needed with his clients.
"Clients with an existing system that want to add a new piece to the puzzle often don't understand that sometimes you can't just plug and play," he says. "I try to warn them early in our discussions that there may be compatibility issues and that a firmware upgrade or hardware upgrade might be needed."
Where Lehmkuhl is unique from a lot of other precision equipment dealers is that he's also a crop consultant.
"The big story is what the farmers are going to do with all that data," he says. "The dealers install the equipment, understand what it is and what it does, but usually offer nothing for analyzing and using the data to the farmer's benefit economically or agronomically."
While he realizes most dealerships won't want to keep an agronomist or consultant on staff, he feels it's a win-win for all involved if a dealership aligns itself with an independent crop consultant.
"The dealer and consultant can work back and forth to match equipment with farmer needs and the farmer has a person that can understand the data and give good recommendations," Lehmkuhl says.
The end result is better performance, more value and a satisfied customer.