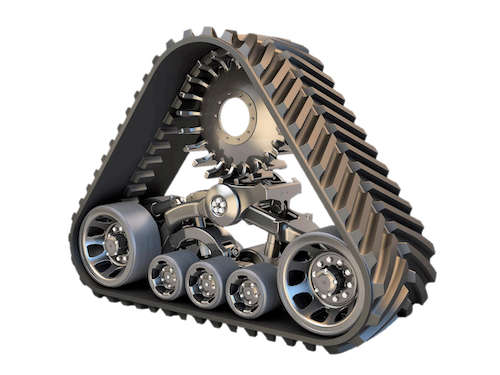 PowerFlex TraxTM with Terra Form SuspensionTM is a fully suspended combine track system that provides superior ride comfort. The new design maintains stable vehicle support, superior ride and greatly reduced vibration into the machine. This results in less downtime, lower operator and system fatigue, enhanced field speeds and smooth travel speeds up to 25 mph. Maintenance time is minimized since there are no grease fittings and transparent hub caps allow a quick check on hub oil levels. New belts are a heavy duty design and construction with wider, taller traction lugs for greater belt life.
Click here for more information.
---
Steerable track kits from Gramlow Ltd. will minimize pinch rows and keep your planter tracking straight. Complete bolt-on kits are simple to install right on the farm by the farmer. Tracks offer more than double the footprint of your 4 tires and only leave two tracks through the field. They will sometimes make up 4 times the surface area of the 4 tires on your planter. Use the steerable axle with GPS guided implement steering to keep your planter directly on top of strip-till strips, or keep guest rows perfect for post-emerge chemical or fertilizer application without driving on the rows. Axle spacing and track width options available to get you the kit that fits your needs.
Click here for more information.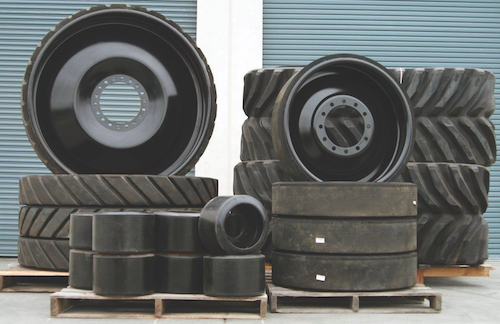 CFI, a leading seller of new and take-off wheels, tires and tracks since 1927, provides North American growers with solutions for a full range of tracks and undercarriage parts such as idler wheels, mid-rollers and drive wheels for most agricultural track machines. CFI components are manufactured in-house to fit any year, make or model of tractor, including John Deere, Case IH, New Holland, AGCO and more. Increase sales and ROI by partnering directly with CFI. Find your track or undercarriage solution online or contact a CFI expert at 888-980-1208 to learn more.
Click here for more information.