The 2020 Precision Farming Dealer Summit, held at the Union Station Hotel in St. Louis, Mo. on January 6-7, 2020, drew a sold-out crowd of 162 attendees, including 64 different dealerships across 25 states and 4 provinces.
Centered on the theme "Defining Precision Progress with Data-Driven Solutions," the program featured 2-days of dealer-to-dealer roundtable sessions, panel presentations, general sessions and intense networking opportunities.
Precision Farming Dealer managing editor Jack Zemlicka noted during remarks that attendees cited the short- and long-term value they draw from Summit discussions and exchanges with precision dealers of different sizes and locations.
"A consistent theme that I heard from attendees during the Summit is that through the informative sessions, roundtable discussions, extensive networking opportunities and diversity of dealers in attendance is taking home even one concept or idea can be a game changer for a dealerships' precision business, whether it's how to bill for phone support, developing a reliable internship program or implementing simple, yet effective, marketing strategies," says Zemlicka.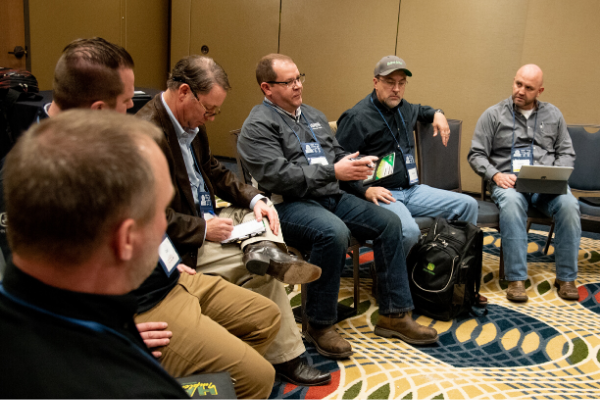 Among the highlights of the 2020 Precision Farming Dealer Summit were a dealer executive panel sharing takeaways for top-down management of a precision business and a keynote dinner presentation session sharing an outsider's view on how to prepare and plan for the next wave of innovation and why dealerships need to adapt for it.
Also announced at the Precision Farming Dealer Summit was the return of the Dealership Minds Summit, which will be held August 4-5, 2020, at the Embassy Suites by Hilton Omaha La Vista Hotel & Conference Center in Omaha, Neb.
From the single-location independent retailer to the multi-store farm equipment dealer, the precision manager to the technology specialist, intense knowledge sharing and networking were in abundance throughout the Precision Farming Dealer Summit.
The 2020 Precision Farming Dealer Summit was made possible with the support of these title sponsors: Ag Express Electronics, Copperhead Ag, DigiFarm, Laforge Systems Inc., RealmFive, Reichhardt Electronic Innovations, Topcon Agriculture and Yetter Mfg. Co.
For more information on the 2020 Precision Farming Dealer Summit, visit PrecisionSummit.com. Initial coverage of the 2020 Precision Farming Dealer Summit, including key session takeaways, will be featured in the upcoming Winter issue of Precision Farming Dealer magazine and the March issue of Farm Equipment. For more information about these issues, contact Michael Ellis (mellis@lessitermedia.com / 262.777.2432)