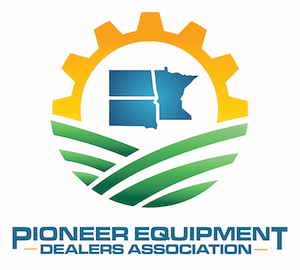 FARGO, N.D. — The Pioneer Equipment Dealers Assn. (Pioneer EDA), a newly-formed trade association serving farm equipment dealers in Minnesota, North Dakota, and South Dakota, has announced the commencement of operations as of April 1, 2019. The Pioneer EDA was formed by a historic merger of the North Dakota Implement Dealers Assn. (NDIDA) and the Minnesota-South Dakota Equipment Dealers Assn. (MSDEDA). Both organizations have proudly served the region's farm equipment dealers for nearly 120 years.
Headquartered in Fargo, ND, the Pioneer Equipment Dealers Association represents over 350 mainline and shortline farm equipment dealerships across the tri-state region. Areas of focus include legislative representation, manufacturer relations, industry news, regulatory compliance, workforce development, and dealer education.
Jamie Melgaard, Minot, N.D., serves as Pioneer EDA's 2019 Chairman, with Mike Scharber, Rogers, Minn., as Vice Chairman. The 18-member Pioneer EDA Board includes dealers from across Minnesota, North Dakota and South Dakota. Matthew Larsgaard, Fargo, N.D., has been named President/CEO and will manage all administrative activities.
The decision to merge MSDEDA and NDIDA followed months of due diligence and a ballot vote yielding an overwhelmingly favorable member response to the merger.   
"We're excited to harness the power of dealers in all three states and move forward as one highly effective organization," says Chairman Melgaard. "Our larger, stronger dealer base will offer better lobbying influence, enhanced manufacturer relations and a single source for information and resources."
Vice Chairman Scharber adds, "Many of our members across Minnesota, North Dakota, and South Dakota now have dealerships in two or even all three states. The timing is optimal for dealers in the tri-state region to join forces, and we look forward to working together."