Montag Mfg. and Hagie Mfg. have come together in a joint marketing agreement, bringing together the industry leading STS line and Montag's new Generation 2 dry delivery system to the cover crop application business.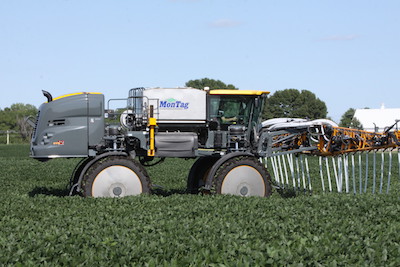 The Fortifier 2212 utilizes the patented Generation 2 twin bin system, introduced to the strip-till market a year ago to power the delivery system. Standard features includes twin bin design with 150-cubic feet of capacity, 4 section control, a pair of boost fans to give it maximum flow, dual ISOBus scales and the Montag Dry Rate Controller. 
"The Fortifier line was developed from the ground up to fit the Hagie STS line" says president and CEO of Montag Mfg., Anthony Montag. "We believe that developing products that increase the sustainability of agriculture is in our best interest, we are committed to product innovation and helping todays farmers be more profitable as well as conservation minded."
Seeding a cover crop in standing corn requires a machine that can meet the demands of high clearance travel, accurate seeding rates and plenty of acres per hour. The Fortifier is available for installation on 90- and 120-foot booms offered on the on 2014 and later Hagie STS12s. 
The benefits of utilizing cover crops is gaining wide acceptance. Increased soil health leads to higher yields and sustainable agriculture. Seeding a cover crop can increase soil organic matter, reduce erosion due to water and wind and stop the movement of nutrients to our streams and lakes. The practice of adding a cover crop to many farms is set to triple over the next few years and the Fortifier 2212 is ready to meet those requirements.
---
About Montag Mfg.
Montag Manufacturing is based in Emmetsburg Iowa where it manufactures a full line of dry fertilizer delivery system for the Agricultural industry. For further information contact Montag Mfg. at (712) 852-4572 or sales@montagmfg.com.
Visit Montag Mfg. at lot #1018 at the Farm Progress Show or lot #914 at the Husker Harvest Show.