I just returned from our 2 national events in St. Louis, including the 5th Annual Precision Farming Dealer Summit. More top-level dealer attendance at the event this year confirms that precision remains both a challenge and opportunity to be figured out.
These dealer-to-dealer Summits, where dealers guide the agenda and do nearly all the presenting, never fail to fill the notebooks and iPads with practical solutions and ideas. But it was Jack Zemlicka's selection of a dinner speaker — an industry "outsider" — that had my brain firing long after the cocktail hour should've slowed it down.
Jim Henderson presented on the topic of systems integration from an industrial equipment perspective. As part of a broader message, he offered a few minutes of study into what thwarts sales and may keep a deserving buying decision from ever getting started.
He painted a picture of "that deal" that you just cannot close. The customer wants and needs it, and you have the perfect solution.
It's not stuck because of the product and what it does or doesn't do, he says. Rather, it's your inability — after the need and options are identified and defined — to address the risks that the customer feels over it. "If sales aren't closing and you don't know why, it's always risk."
He showed a graph from the book Solution Selling by Michael Bosworth that described the 3 phases of a sale: needs definition, evaluation of alternatives and action. In the progression of what weighs most heavily on the buyer, cost never rises to the top. As decision-making time nears, it's all about risk.
There's much to be studied on whether more refined sales processes can overcome deals that would otherwise go south. But if Bosworth, Henderson and others are right, the limiting factor is entirely about risk.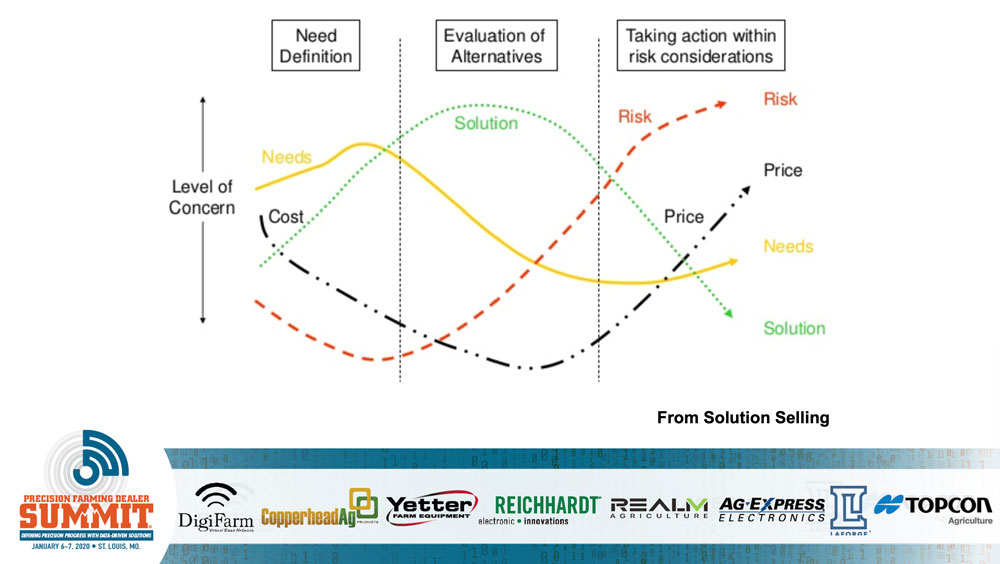 The Exemplary Group's Jim Henderson delivered the dinner presentation at the 2020 Precision Farming Dealer Summit in St. Louis. This single slide, from Michael Bosworth's Solution Selling work, initiated dialog about the hidden deal-killer -- risk. One attendee noted that "If you didn't understand what he was talking about, you won't be in business in 5 years."
More profound than a simple technique Henderson discovered in his industry is the question: how can you effectively manage risk paralysis?
Obviously, a successful change in practice (say a move into strip-tillage, for example),requires more than a properly matched toolbar to horsepower. How far can you as the machinery expert go in mitigating risk? How much of that job can or should be expected to fall on the dealer?
Past performance is the best indicator, of course. But there are things machinery dealers are doing that look like an effort in that direction ... Sponsoring and facilitating customer peer groups where mistakes and best ideas are shared, and contacts developed. Large-scale, independent research in local conditions that isn't designed around specific outcomes. Dealers traveling long distances with their customers to conferences for shared experiences, answers and networks that can be tapped when problems arise. Or as I learned during a roundtable last week, prohibiting a wholegoods salesman from entering a planter sale until a precision specialist has first blessed it. Saving the customer from himself may be the biggest risk-mitigator of all.
Our history-related podcasts (with farmers, dealers and manufacturers) of the last 2 years have sought to unearth what separated the survivors from those who didn't make it. What perhaps we've missed (to date) is capturing how risk was dealt with in the moment, in real time. Regardless of whether it came from a place of knowledge or faith, it makes you wonder if survivors understood and recognized the risks (including the risk of doing nothing) in a different way.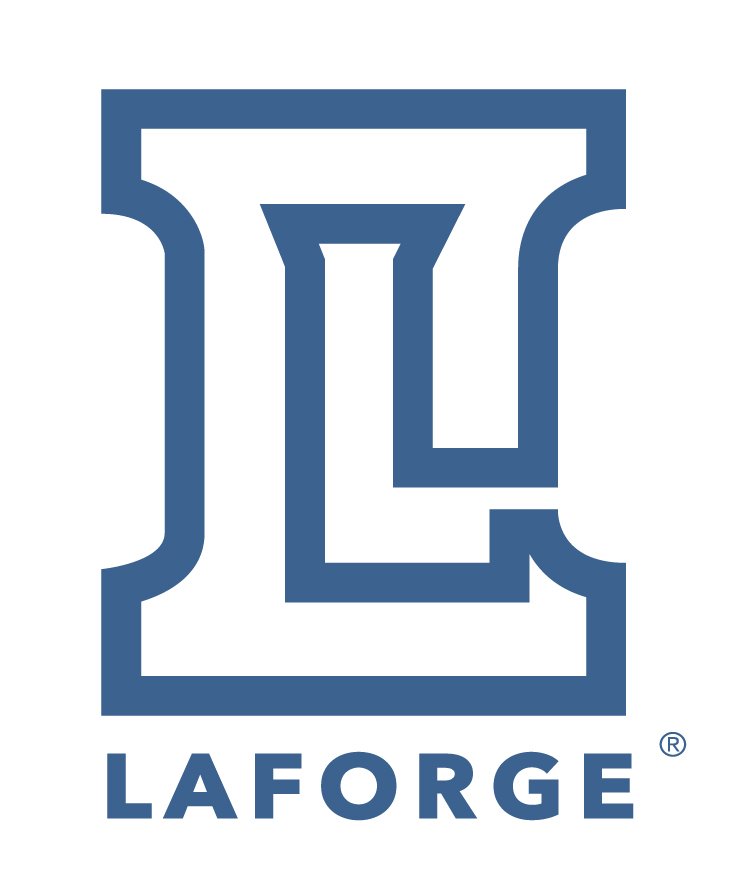 Attendees from the Precision Farming Dealer Summit will soon be able to access videos of the general sessions, courtesy of Laforge Systems Inc.
A longtime veteran of farm machinery stopped by our offices on the heels of the conferences and left us with another deep thought to weigh. "Different isn't always better," he says. "But better is always different."
Can a dealership — by itself or via the farmer's other stakeholders — find a competitive advantage in this arena? Email me at mlessiter@lessitermedia.com about how you, and/or others in your customer's stakeholder circle, have moved things forward in this way.